---
Saraland Middle School Students Selected for National Competition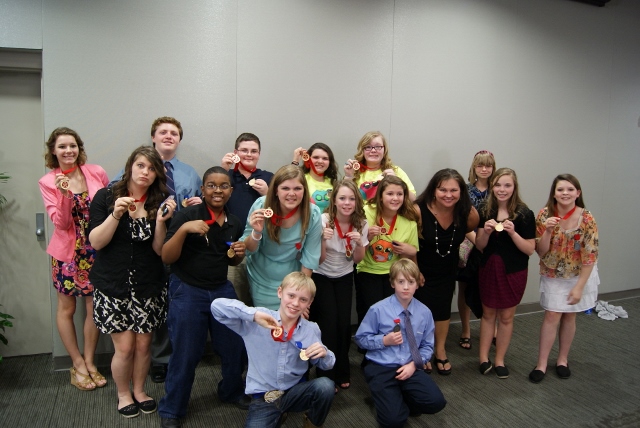 FAMILY, CAREER & COMMUNITY LEADERS OF AMERICA (FCCLA)
Saraland Middle School's Family, Career & Community Leaders of America (FCCLA) members competed in the state's FCCLA STAR Events in Montgomery on March 16, 2013. STAR Events (Students Taking Action with Recognition) are competitive events in which members are recognized for proficiency and achievement in chapter and individual projects, leadership skills, and career preparation. All fourteen students will be representing the Saraland School System and state in national competition this summer in Nashville, Tennessee.
The following students were awarded: Korie Wilson and Kaitlyn Odom received gold medals and best overall for Life Planning Event. They planned and hosted a Valentine's dance for their school.
Bryce Stacey received a gold medal and best overall for Career Investigations. He researched the requirements for becoming a professional chef and shadowed a local chef.
Brooke Ables, Abbie Anderson, and Kelcie Kite received gold medals and best overall for Chapter Service Display. Their service project centered on working with special needs students at school.
Dawson Skoglund and Isaiah Mapp received gold medals and best overall for Interpersonal Communications. This was a community service project that collected over 480 personal hygiene items for residents at Wilmer Hall Children's Home.
Taylor Cox, Mary Patterson, and Alyssa Hack received silver medals and best overall for Focus on Children. Their project focused on literacy. They created a reading challenged for two fifth grade classes.
Jackson Miller and Brittney Franks received gold medals for Chapter Showcase Manual. They created a scrapbook showcasing various leadership activities, community service, and STAR Events FCCLA members participated in during the school year.
Jacob Mitchell received a silver medal for Recycle and Redesign. He recycled empty soft drink cans and designed an airplane.
Vision Statement

The vision of Saraland City School System is to build a world class educational system for our children.

Mission Statement
The mission of the Saraland City School System is to ensure that each student realizes his or her unique potential through a system characterized by a dedicated and exemplary staff, a supportive and involved community, a recognition and celebration of diversity, an optimal utilization of resources, an uncompromising commitment to excellence, and a willingness to affect change.