What does it mean to be Saraland Spartan? Select this Video Link to hear the answer directly from the Spartans!
**** The non-resident student application process for 2015-16 school year is CLOSED****
The non-resident student application deadline was May 31, 2015. Additionally, completion of an application does not guarantee acceptance. Notice regarding admission status of non-resident students will be mailed to the student's home address prior to August 1, 2015. Tuition payment must be made in full prior to the first day of class.
Deadline is August 31, 2015 - Employee PEEHIP Wellness Screening
Select link to download information and forms: Employee PEEHIP Wellness Screening Information
Parent Survey
In an effort to improve practices at Saraland High School, parents are invited to complete a parent survey by selecting the following link: Saraland High Parent Survey.
2015-2016 School Calendar
Download and print the 2015-2016 School Calendar - click here.

Spartans · Dream It · Believe It · Achieve It · You Voted "Yes" for Progress
Select the link to view Saraland City Schools' Annual Report for 2014 - your "Yes" vote secured Saraland's progress for years to come! 2014 Annual Report

From 2008 to today, the video tells the story. In Saraland, it's more than programs. It's the people who have made the difference! Go Spartans!
Follow Saraland City Schools on Twitter @SaralandSchools
Find us on Facebook - In the box below, you can scroll through the feed or click Saraland City Schools to visit our page.
Important Messages from Diana Collins, Health Services Supervisor
"Children Without Fund" has been established to assist Saraland City Schools' students who are in dire need, requiring financial assistance to provide for the most basic necessities. This fund is supported through tax deductible donations. "Children Without Fund" Program Details Link
Procedures and Applications for Use of Performing Arts Center
The Saraland City School System and Board of Education are pleased to offer the use of the Center for the Performing Arts for the benefit of our community. Please schedule all dates and arrangements for the use of the facility according to the procedures outlined in the manual. Access the manual by using the link under District News.
Bus Stop Locator
Do you need to to know which bus your child will ride? Do you need to know where the closest bus stop is located? Do you need to know the bus pickup and drop off times are? Save yourself a phone call - click on the school bus to get the information that you need.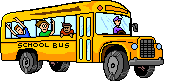 Pre-pay for School Meals Online
Parents are able to pay for school meals online. Visit www.paypams.com to set up an account and begin paying for your child's meals online. The money goes directly into your child's account. A convenience fee of $1.95 per transaction is charged. Click here for detailed instructions on setting up and managing your account.
Live Web Broadcasts
Saraland City School System is now broadcasting athletic events and other major system events on the web. You can follow your Saraland Spartans online .
---
Vision Statement

The vision of Saraland City School System is to build a world class educational system for our children.
Mission Statement
The mission of the Saraland City School System is to ensure that each student realizes his or her unique potential through a system characterized by a dedicated and exemplary staff, a supportive and involved community, a recognition and celebration of diversity, an optimal utilization of resources, an uncompromising commitment to excellence, and a willingness to affect change.
Notice of Non-Discrimination
Saraland City School System does not discriminate on the basis of race, color, national origin, sex, disability, or age in its programs and activities and provides equal access to the Boy Scouts and other designated youth groups.
For inquiries regarding nondiscrimination policies, contact
Kristen Sousa, Title IX Coordinator, ksousa@saralandboe.org
Amy Pippins, 504 Coordinator, apippins@saralandboe.org
943 Hwy 43 South, Saraland, AL 36571
251-375-5420